Fields of Grass Urn, Keepsake Size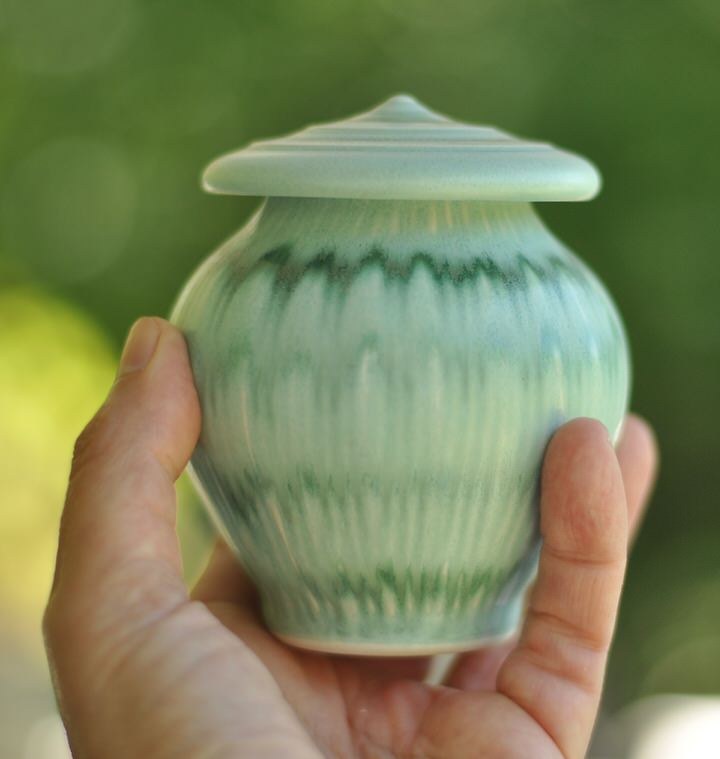 Fields of Grass Urn, Keepsake Size
This keepsake urn, is intended for smaller amount of cremains, perhaps as a sharing urn for family members, or a pet urn. It is also intended as a memory jar, to hold something so very special from a loved one… maybe a love note, a ring… some little treasure!
This keepsake urn measures approximately 3" x 3" x 3" and will hold up to 12 cubic inches **.
The glaze reminds me of blades of grass, it is a very peaceful green, soft and faded like the tall grasses in the field.
I make each urn at the potters wheel. It is then fired in the kiln for 9 hours to harden. I then glaze it with different layers of glaze to achieve the variations you see. The final step is to fire it again in the kiln for 15 hours which allows the glaze to achieve it's melting point.
Urns are made in four sizes, individual size, medium size, small size and keepsake. Please check the shop for other sizes available.
All of my pottery is handmade, one piece at a time. All sizes are approximate, meaning they may vary slightly in size… maybe 1/4-1/2″.
** One cubic inch = One pound of live weight.
You may seal this with a hardware grade epoxy for a permanent secure seal.
$7 FLAT RATE SHIPPING via priority mail in continental U.S.
Please contact me for a shipping price quote to everywhere else outside of the continental U.S.
If you need an urn shipped next day air via UPS please contact me for a shipping price quote, or call me directly @ 413 522-8370